Pssst… can you keep a secret?
When I first went freelance, I used the name Boing to make my 'practice' look big and important.
I've since realised that I don't want to be Big and I'll never be Important, so the cat's out of the bag now ~ it was all just me, all along, using the skillsets I'd developed over a lifetime of working in print and art.
My design philosophy remains the same, though: it's beautiful when it works!
In a world full of eye-splitting visual noise, good design is all the more important for catching an audience's attention and getting a message across (which often means something simple and quiet works best).
I've worked across the full gamut of design projects: magazines and books, branding and marketing, advertising and offices.
I don't take on many new design commissions these days, gravitating more to art projects, but these skillsets are still available to ethical companies and people who are making a positive difference in this crazy world.
If you already know what you need, I can fix that… if you only know what you want, I'd love to find a way to translate it into what you need. Get in touch here.
I HAD DESIGNS ON THINGS
Draw The Line ~ when my friend Myfanwy Tristram pulled together a 100-strong cohort of cartoonists and artists in the wake of Brexit and Trump to illustrate positive actions that anyone can take if they want to make a difference in the world, I found myself contributing and designing the limited first edition of Draw The Line (with a cracking Woodrow Phoenix/Karrie Fransman cover).


Steadman @77 ~ If you had taken me aside as a young art student and told me that one day I would design a retrospective book of the man who was among my greatest illustration influences… well, I'd have probably told you "I don't do design." I was a bit sniffy on the topic, but I mellowed eventually and when the chance came to design this brilliant book written by Anita O'Brien and Chris Miles, stuffed with the best of Steadman, I'd have had a fistfight with anyone else who got the gig!
Past Live ~ the writer Andrew Cottigham gave me free rein to interpret his back catalogue of poetry and prose for this collection.
Cartoon Museum ~ One of my favourite charities to work for is London's Cartoon Museum (so much so that I continued to volunteer as a gallery helper for some years after we moved out of London). I have a ball designing their books, catalogues, displays and marketing materials. They also make a great venue for private hire… check them out here.
Circus folk ~ As the go-to designer and illustrator for The Circus of Horrors, I work with the terrifying ringmaster Doktor Haze to develop the visual look for each tour (22 years and going strong) and produce posters, t-shirts, CDs and adverts for fifty or more gigs each year. This relationship has also extended to other circus tours for Moscow State Circus, Continental Circus Berlin, The Great Canadian Circus, Chinese State Circus and Circus Extreme… it's a good job I don't suffer from coulrophobia!
Tourism ~ Given my past employment, it's probably no surprise that I've continued to be busy designing all manner of marketing pieces for international tourism organisations. From this series of large-format posters that appeared throughout the London Underground promoting staycations and tourism within Britain during a foot-and-mouth outbreak…
…to large-scale exhibition, conference design…
…to brochures and books promoting city breaks…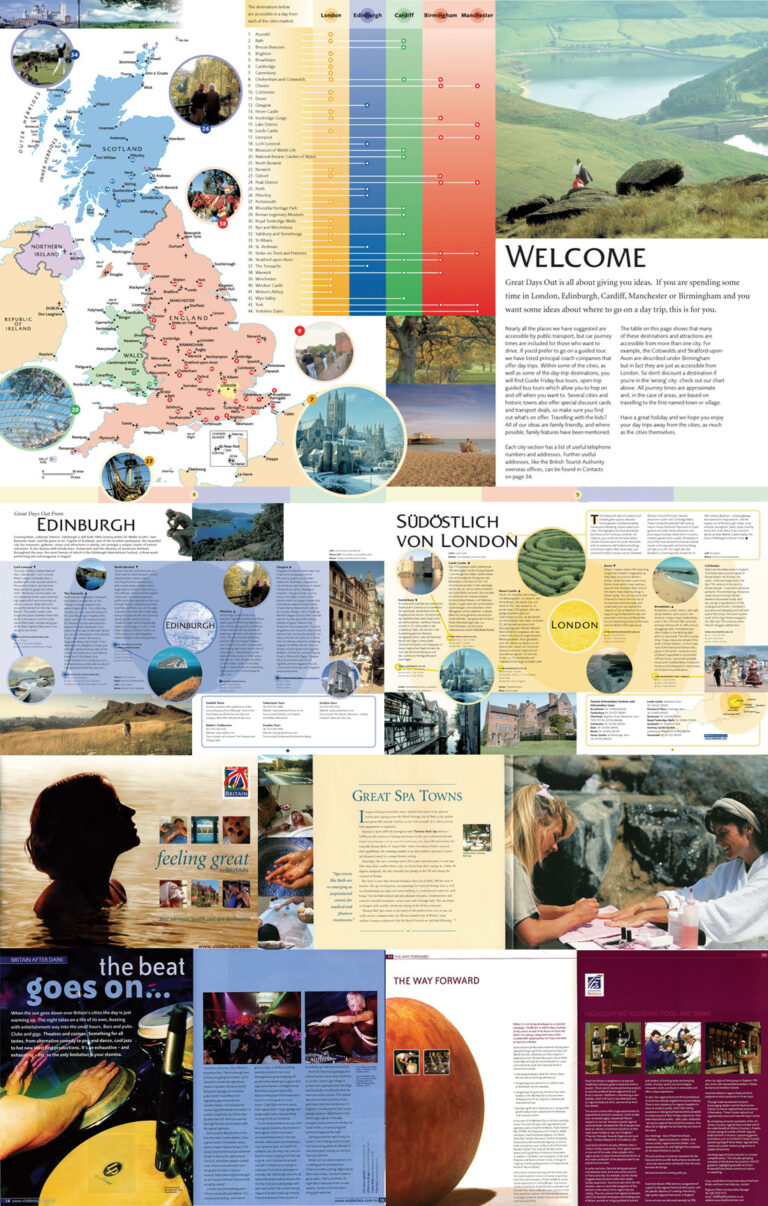 Memoryscape ~ an innovative audio-visual walk around the old Docklands of London.
Scanning For Gold ~ I've worked with Brighton & Sussex Medical School on many projects over the years. The most exciting was probably designing outreach exhibitions such as Scanning For Gold, on the crossover between science and sport, examining just how an olympic athlete's body works.
(not that it wasn't fun to be designing their prospectuses and promoting their events)
I don't make many logos these days, but here are a few…
… and infographics used to be my bread and butter.