why, yes… I do want your money! (but UK post is free)
UnComics: CBA 56/57
180 pages. Book.
£15.00
A hefty, lavishly printed softcover volume featuring 17 practitioners of "Uncomics," working in the US, the UK, Sweden, Finland, and Japan.
"Uncomics" asks us to imagine a radical rethinking of the formal components of comics. CBA guest editor Allan Haverholm, in his accompanying essay, notes that comics "aren't inherently narrative, their form not necessarily linear. Those are restraints set by the entertainment industry that comics never really escaped." 
What would it look like, then, to abandon those restraints ~ to do away with or reimagine comics' use of storytelling devices like captions or word balloons, linear narrative, even sequential order–replacing those tools with "abstract, suggestive, and ambiguous" elements more commonly associated with contemporary art or the avant-garde?
For answers, this volume turns to the work of a remarkable set of contributors, a veritable Who's Who of optically adventurous creators from across the globe: 
Tym Godek [US], Kimball Anderson [US], Warren Craghead III [US], Simon Russell [UK], Anastasia Hiorns [UK], Gareth A Hopkins [UK], Tana Oshima [JP/ES/US], Rosaire Appel [US], allison anne [US], William Lillstjärna [SE], Louis Deux [US], Mark Badger [US], Miika Nyyssönen [FI], Shaun Gardiner [UK], Laurel Lynn Leake [US], Churchdoor Lounger [US], and Mattias Elftorp [SE].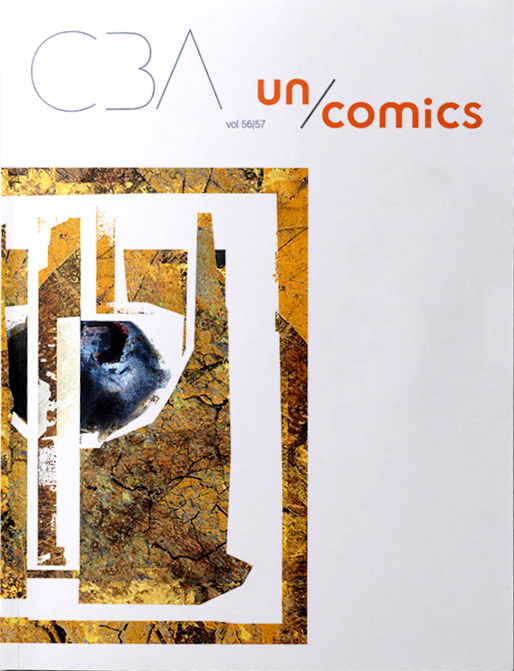 Redacted Comics: Alpha
36 pages. US Comic.
£0.00

Redacted Comics are a place where I enjoy bits of pre-existing works ~ but maybe not in the way their creators intended.
This issue is appropriated from Alpha Flight 40 (published by Marvel Comics in 1986). The original work was by Bill Mantlo, David Ross, Whilce Portacio, Jim Novak and Bob Sharen… you can see details here.
In this piece I was fascinated by the hyper-emoting of the characters and the ways shapes and blocks moved the eye around the pages to make the audience aware there was a story in progress,,, not having read the previous issues, that convoluted story made precious little sense to me and the characters didn't resonate with the requisite meaning that an extended superhero narrative relies on.
But… BUT… even this contextless reading experience has a lot of Comicking going on.
Skadi: The Marriage of Njord & Skadi
24 pages. US Comic.
£5.00

A full colour comic, retelling the Norse tale of a giantess who looked for revenge but chose a husband. Then chose again.
"A story that feels freshly experimental but with a deeply felt sense of the past. A rich folklore tale that I adored and can't wait to see more!"
Tony Esmond, writer and podcaster
"A truly beautiful thing. If you have kids in your life learning about Norse history, if you're a lover of ancient tales or someone who appreciates well made art, do yourself a favour and check this out."
Amy Sutton, Bard & Troubadour/Worthing Storytellers
"Simon Russell's evocative art perfectly compliments Jon Mason's lyrical re-telling of this little-known classic of Norse myth. Simultaneously melancholic and cathartic, it's a tale that lingers long after the final page has been turned, demanding numerous readings."
Tim Pilcher, author of How Comics Work
Appropriation: Question Marks Number 5
24 pages. A4 Home Printed Comic.
£7.00
A lot of my personal comic collection has been filleted and filed over the years as individual pages here and there. This leaves many orphan pages and spares, that sit, overlapping and interacting in my workspace. Glimpsed out the corner of my eye, as I go about my day, strange tangents and correlations appear, so I have taken some of these pages and cut and mixed them to find patterns and lines of inquiry that excite my eye.
Question Marks 5 is a smattering of the results from my massive sketchbook. 
The original drawings are copyright the holders (sadly mega corporations in most cases) and the trademarks on characters are entirely theirs, but this publication is an artistic work appropriating the source material. If you have any problem with that, go talk to the Lichtenstein Foundation before you come at me!
Nearly There: thinking comics on the go
24 pages. A5 Home Printed Comic.
£4.00

Twenty years in the making!

When I waved goodbye to commercial magazines in 2001 and  entered my Travelling Designer Period, one colleague handed over a fancy sketchbook and wondered: "how long will it take you to fill this up?"

Well, it was a lot longer than I expected, thanks in no small part to me setting the restriction of only making automatic drawings guided by the motion of unique transport routes…


The first page has marks made on/by a GNER train from Peterborough to Kings Cross on the morning of 16th April 2001 and I finally put ink on the last page in a car in Southwold, Sussex on 25th August 2021.

Many pens, one hand – rocked and jolted with as minimal direction as my own ego permitted while I moved around the world on trains and planes, buses and bikes, foot and ferries. Then collated and corrupted to make a peculiar comic that no two people will ever read the same way.
ROY: a consideration in comics
20 pages. A5.
£4.00

Roy Lichtenstein became (in)famous for his comic paintings ~ enlarging crudely modified comics panels to wall sized paintings and making millions of dollars in the process.
Tate Modern's 2013 retrospective re-opened the controversy surrounding his unacknowledged use of comic artists' work and this pamphlet wittily examines the process of 'appropriation' in fine art by redrawing images in comic form.
Part historical consideration, part satire, Roy is a monochrome comic that plays with the appropriations of Lichtenstein by reworking his paintings back into newsprint comic form and commenting on his work.
Roy is intended to start conversations and amuse the comics-literate.
(For those wanting more, but not wanting to buy the pamphlet there's a loooong annotated blog pointing out ALL the references etc here)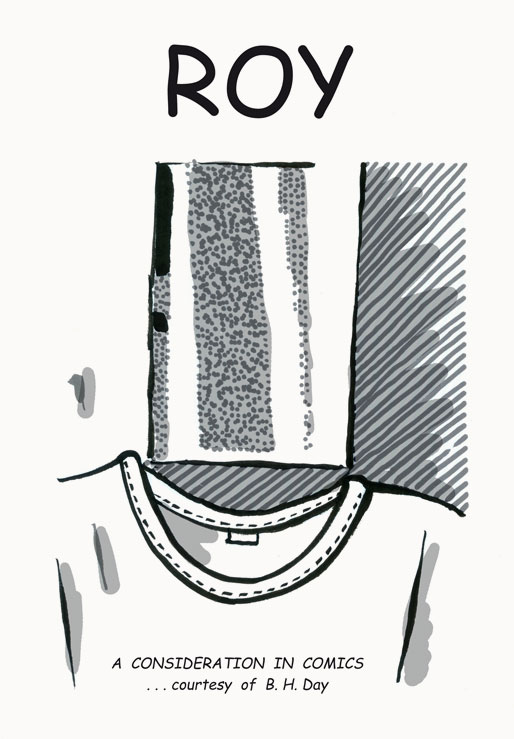 nearlymades: found stories and kipple narratives
92 pages. First Limited Edition of 200.
SORRY ~ SOLD OUT
Lying on your back, finding faces in the clouds. Walking home under yellow street lights and mistaking a bush for a lurking figure. Seeing Jesus in your toast… 
You'd be a rare human, indeed, if you had never glimpsed a nearlymade!  
My book nearlymades asks you to take a sideways squint at beauty and detritus. Some of the found-comics and stories in here will seem familiar ~ like half-remembered tales of martians, myths and monsters ~ and deja vu is always waiting in the shadows, but nothing in this book began with graphics aforethought. 
Chance sequences and stories have been excavated from mundane travels and presented for slow consideration with text and image playing off each other… what looks at first like a script is often revealed as a title or a verbal ruse to slow the eye and tickle the imagination.  
reviews:  |  Page 45  |  Broken Frontier  |
"Nearlymades is a fascinating recycling of found (and doctored) images. Bridging the gap between graphic novels and artists' books, this rare and excellent example of abstract comics is intriguing, beguiling and witty, and will change the way you look at the streets around you." – Alex Fitch, broadcaster and academic
Past LIVE: Andrew Cocktoe
134 pages. Paperback. Limited Edition of 100.
£10.00

A collection of poetical meditations on tv/comix/music/food by Andrew Cocktoe with design and illustrations by me.
Prose, poetry, selected images, art, comics and… 
Cultural and Temporal sabotage!