At the risk of sounding like a right luvvie, it's the live appearances among Real People that count!

No, really! I get a phenomenal buzz from participating in workshops, talks and performances, but it's when we get feedback that someone who joined in has taken their own creative activity up a notch that it feels like Art has actually changed the world.

Just being at a live event with pen and paper in hand is a thrilling experience. If you have a live art event in mind, I'd really like to be part of it. Please get in touch here

PLACES I DREW
Ugg 'n' Ogg and the World's First Dogg ~ Theatre Fideri Fidera
This was one of those shows that I just sat in the audience with my kids and got taken on a lovely journey…

The great challenge in drawing live theatre is that the actors do move around ~ and in children's theatre they move really fast!

The ideal would be to take sketches like these and draw 'proper' compositions later, but there are always more drawings to draw!
'jackanory' ~ Worthing Storytellers
A jolly evening listening to Worthing Storytellers, on Worthing pier no less. These sessions are a delight to listen to ~ but also to draw. There's a stage or a clearing with someone more-or-less staying in one place for 10 minutes. Acting on the spot for my hungry pen.
Would you buy a used car from these men?
When we launched our Norse myth comic, The Marriage of Njord & Skadi, at  Brighton Comic Convention, i danced for the crowds at our table while Jon the Storyteller did a live retelling of the story before the comic: the theft of Idunn's golden apples.
Epic stuff ~ Beowulf!
Beowulf ~ not only the oldest story from England, but one of our best and one of my favourites. Who wouldn't jump at the chance of seeing the epic poem play out on stage at Brighton Fringe? Of course I took my pens…
Tomte's at Christmas ~ Little Green Pig
This event at Brighton Library gave us the opportunity to hang the drawings of tormte our group made in the public areas. Watching parents and other kids enjoying them over the next week was a real bonus,
Leading lights ~ Brighton Digital Festival
Portraits of science fact and fiction luminaries from The Lighthouse, Brighton Digital Festival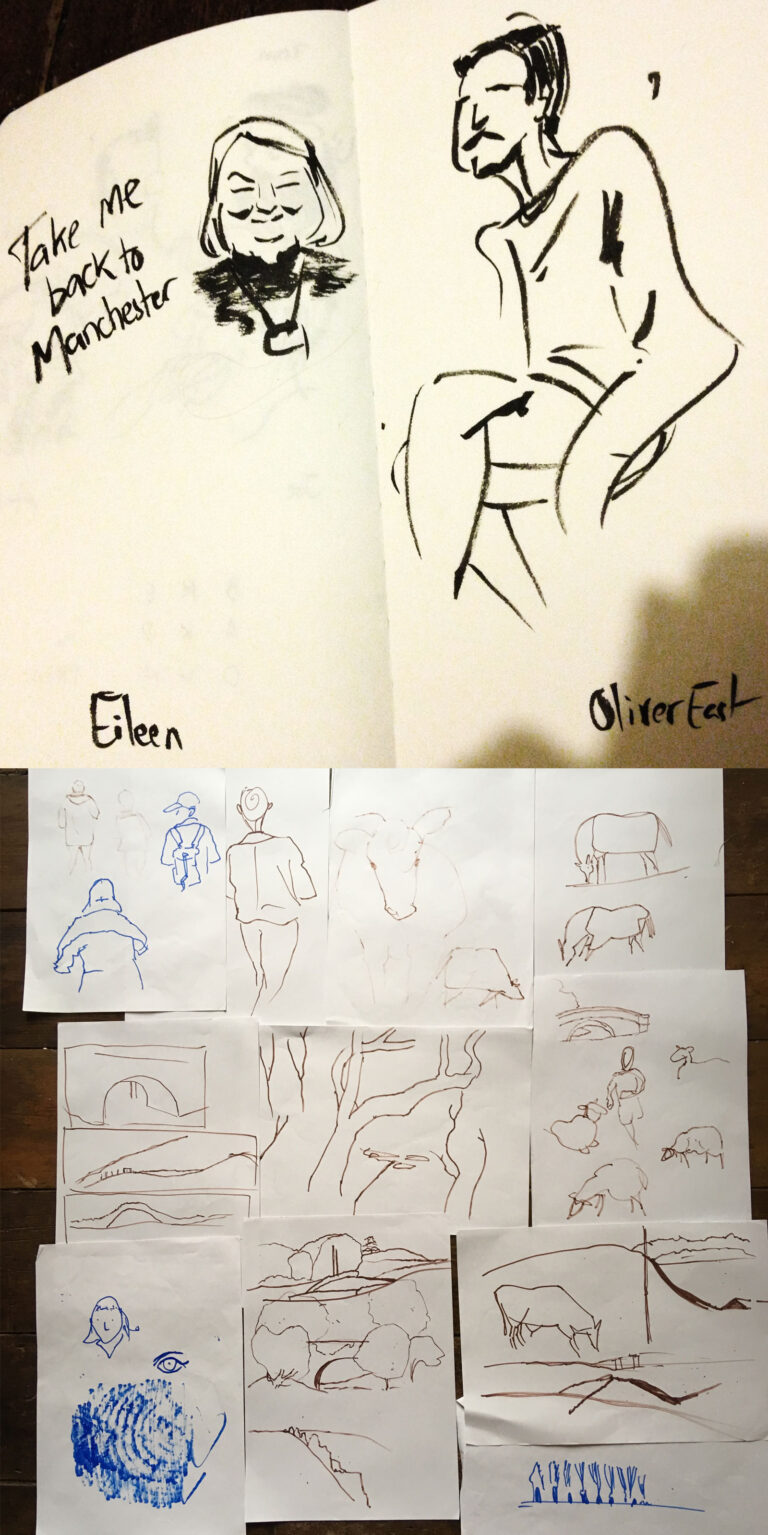 Lakeland ~ LICAF
Drawing for kids at The Lakes International Comics Art Festival ~ it's a lot more fun than actually selling them the comics I was pimping!
Throw in the chance to join a creative workshop by the amazing Frank Santoro, a panel discussion on Breakdown Press and an interview with my personal hero Oliver East (and a Walk and Draw Masterclass with him!) and that was probably the best comics festival I've ever been to ~ despite the floods.
Sherlock's Dog ~ British Touring Shakespeare
Our family took a young Kirby Pup to Thorington open air theatre (a genuinely magical place) to see The Hound of The Baskervilles. The play started with a recorded howling ~ that was accompanied by the real thing from our seats.

She settled down long enough for me to get some drawing in before the interval, but a restless doggo is not fair on the rest of the audience, so I never did find out the answer to the mystery!
Got Scrooge'd ~ True Story Theatre
If you ever get the chance to see A Christmas Carol at The Spire, do not pass it up! Great performances from a Brighton troupe in a properly festive setting.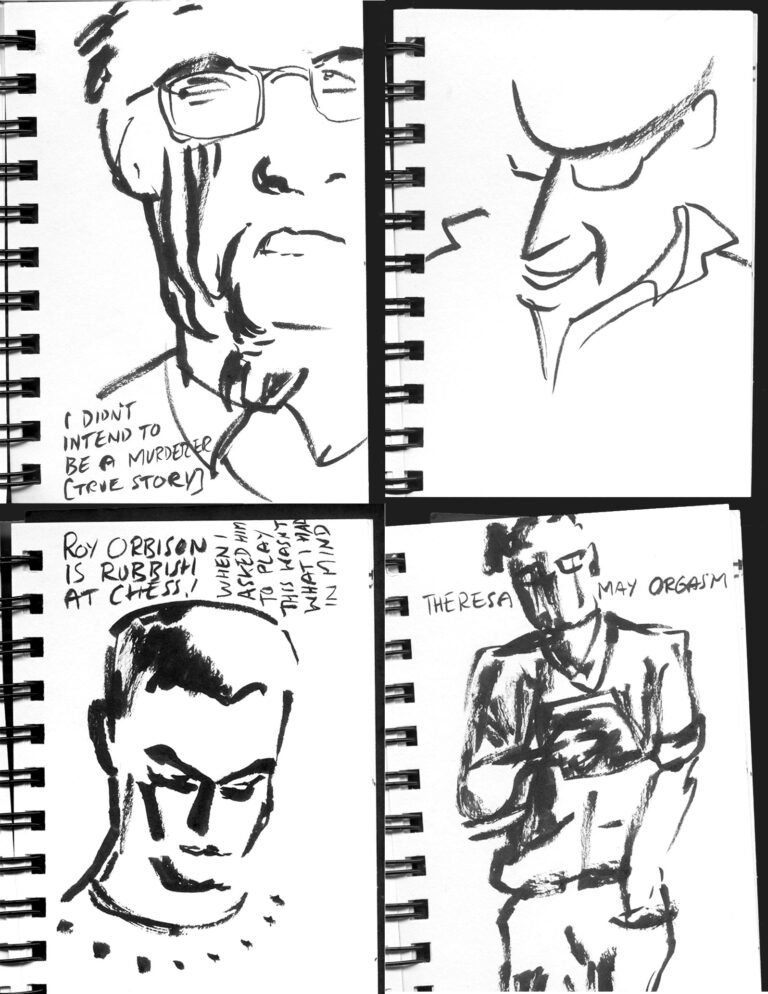 Quick stuff ~ Myriad
Quick Fiction evenings really are quick. So you have to commit to any drawing from the first line.
The companion Quick Strips evenings focus on comics creators and have never failed to entertain me…
Comics as Music ~ Dr Maggie Gray
Lecturer, podcaster, interviewer and event organiser ~ Alex Fitch is one of the unsung heroes of comics. Through sheer force of will, he's built the Graphic Brighton academic conference over many years and made it an essential date on the calendar for students of the Comics form.

Plus, it offers up more captive subjects for drawing..!